Cinema program "Transformers: Rise of the Beasts" in Białystok
No showtimes for movie "Transformers: Rise of the Beasts" for today
Choose other date from the calendar above.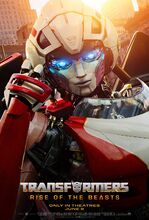 Original title:
Transformers: Rise of the Beasts
Runtime:
117 min.
Production:
USA , 2023
Release Date:
9 June 2023
Distribution:
UIP
Directed by:
Steven Caple Jr.
Cast:
Peter Dinklage
,
Ron Perlman
,
Pete Davidson
Akcja filmu "Transformers: Przebudzenie Bestii" będzie miała miejsce w latach 90-tych i zabierze widzów w podróż dookoła świata.
Do odwiecznej wojny między Autobotami i Deceptikonami dołączą nowe frakcje: Maximale, Predacony oraz Terracony.Seria o pochodzących z kosmosu robotach jest jedną z najpopularniejszych serii filmowych ostatnich lat.
W filmie "Transformers: przebudzenie bestii" poznamy nowy rodzaj robotów - upodobniające się do zwierząt Maximale. Spektakularne, pełne akcji doświadczenie kinowe, które rozgrywa się po wydarzeniach z przebojowego filmu Bumblebee wprowadza po raz pierwszy na duży ekran nowe, inspirujące postacie ze świata Transformerów, jednocześnie pokazując ulubione postacie w sposób, w jaki nigdy wcześniej ich nie widziano.
Ta epicka przygoda zabierze widzów w podróż od Nowego Jorku lat 90-tych, przez dżungle Peru, aż po najdalsze zakątki wszechświata
Movie trailer: Transformers: Rise of the Beasts